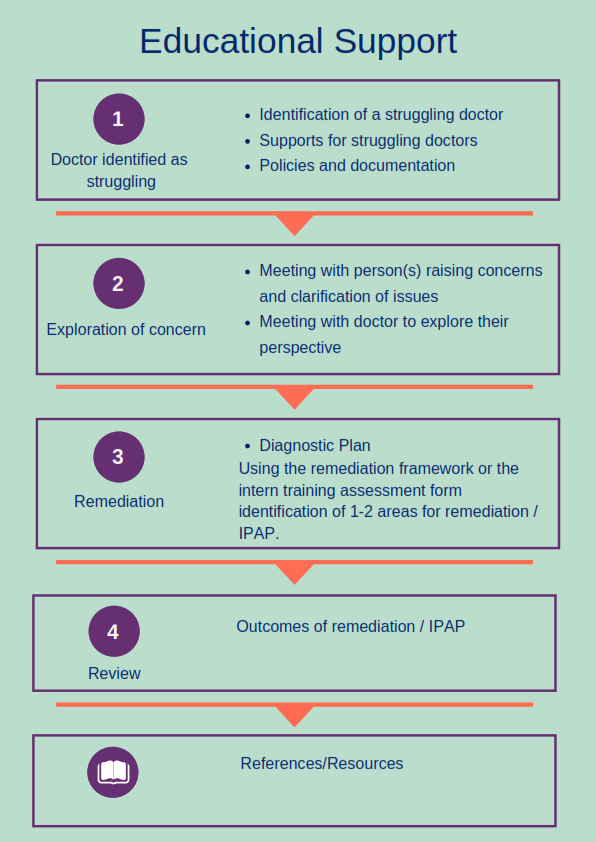 Doctor identified as struggling:
Identification of a struggling doctor
The identification of a struggling doctor may come via a number of routes.
Prior to commencing internship, a number of characteristics have been identified as predicting a doctor who may need additional support:
Intern with a low Z score
Repeating or deferring years as an undergraduate
Older age at starting internship > 30 yo
Married
Male gender
International medical graduate
English as a second language
During intern year some warning signs include:
Productivity
Large number of discharge summaries pending
Poor note taking
Handing off a large number of uncompleted tasks
Attendance
Frequent sick calls
Arriving early and leaving late
Being uncontactable during the day
Reports from staff
Team members rumour mill regarding competence
Formal reports on intern training assessment forms
Poor communication
Bad behaviour
Significant concerns regarding patient safety
Intern training providers must be aware of the Health Practitioner Regulation National Law. This requires registered health practitioners and employers to make notifications about registered medical practitioners who have engaged in 'notifiable conduct' as defined in the National Law.
The requirement under national standard 5.2.5 to immediately address concerns about patient safety may require action beyond remediation, including possible withdrawal of an intern from the clinical context.
Refer: Medical Board-Training - National standards for programs PDF >>
Supports for struggling doctors
Most doctors who are struggling are aware of their situation and may need additional emotional support.
The degree of support needed varies with all doctors. The initial meeting with the doctor should acknowledge the stress of low performance and offer resources including:
Internal supports
DCT/MEO/SIT/hospital wellness officer/peer support/mentors
External supports
Many doctors are concerned that referral to a psychologist, employee assistance program (EAP) or a doctor due to stress or anxiety will have implications for registration, medical indemnity or references.
The doctor should be advised that notifiable conduct is defined by AHPHA as conduct that behaviour that puts the public at risk. Similarly, medical indemnity organizations follow the same principles. Most indemnity organizations acknowledge the stresses of a career in medicine. Their goal is to have healthy members so they provide assistance to members with no penalties for those who seek assistance.
Extract from AHPRA
That is, the requirements focus on behaviour that puts the public at risk of harm, rather than not liking the way someone else does something or feeling that they could do their job better.
Similarly, if the only risk is to the practitioner alone, and there is no risk to the public, the threshold for making a mandatory notification would not be reached. For example, in a case where the risk is clearly addressed by being appropriately managed through treatment and the practitioner is known to be fully compliant with that, mandatory notification would not be required.
Section 140 of the National Law defines 'notifiable conduct' as when a practitioner has:
practised the practitioner's profession while intoxicated by alcohol or drugs; or
engaged in sexual misconduct in connection with the practice of the practitioner's profession; or
placed the public at risk of substantial harm in the practitioner's practice of the profession because the practitioner has an impairment; or
placed the public at risk of harm because the practitioner has practised the profession in a way that constitutes a significant departure from accepted professional standards.
https://www.medicalboard.gov.au/codes-guidelines-policies/guidelines-for-mandatory-notifications.aspx
Local medical officers
All doctors should have a GP
Hospital employee assist programs (EAP)
The services are run by independent organizations and provide qualified psychologists who generally offer up to three free consultations. The number of referral and nature are fed back to the employer but the client identity and details of the consultation are confidential.
Victorian Doctors Health Program (VDHP) provide support for doctors and medical students with emotional and mental health issues as well as substance abuse and physical health issues. For doctors facing formal investigation a referral to VDHP should be a part of the process.
http://www.vdhp.org.au/website/services.html
Policies, procedures and documentation
The overarching principles for remediation is the need for ensuring patient safety as well as transparency and fairness to the doctor.
Each employer will have local policies and procedures relating to professional conduct and grievances.
Intern training and assessment form >>
Intern review panel
All interns who have been identified as struggling or not reaching the required standard and/or doctors who are working on a modified roster need to be reviewed by a multi-disciplinary team to review and discuss the needs and progress of doctors.
This panel is convened in accordance with the Australian Medical Council (AMC) guidelines for intern education and training. This panel provides oversight and monitoring of all assessment processes for interns, reviews any concerns and complaints about the performance or conduct of interns and makes recommendations for remediation of poor performance to the Director of Medical Services.

The membership of the panel may include:
A senior clinician with experience in educating and training interns i.e a Director of Clinical Training (Chair)
Directors of Clinical Training
Manager, Doctors Workforce
Wellbeing Officer
Term Supervisor
Medical Education Officer
Exploration of concern:
Clarification of concerns and issues
When concerns are raised, they may be very specific but more commonly they are a vague sense of the person isn't performing at the expected standard. In order to make a diagnosis and to provide quality feedback specific details regarding the performance need to be obtained. The use of the diagnostic framework can assist in clarifying the concerns that have been raised.
Meeting with the doctor
Meeting the doctor will often be a difficult conversation. It is important that it is approached with a genuine enquiry and desire to assist the intern.
An important part of the investigation into a struggling learner includes an assessment of the system. System factors that may predispose to a poorly performing doctor include;
The information contained in the ROVER should be updated to ensure that doctors understand their roles, responsibilities and reporting lines
Orientation to environment and particularly the IT systems is important to allow for the doctor to work optimally
Unit expectations should be reviewed to make sure they are reasonable and understood by the doctor
Supervision should be ensured and provided by trained and competent supervisors
The unit workload should be reviewed to ensure that the work can be achieved in the time allocated
The roster needs to be in line with the EBA
The general principles of the conversation follow guidelines for giving feedback.
Feedback tool-kit