The Hitting the Ground Running (HTGR): IMG Orientation face-to-face Program is currently on hold until further notice. We have introduced the HTGR program to an online environment to offer more flexibility.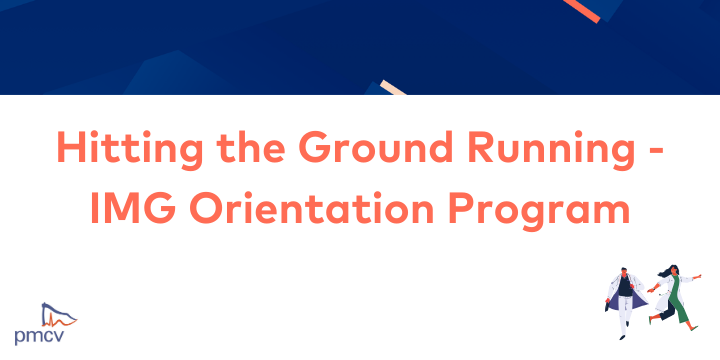 Program Information
The HTGR program integrates all non-hospital/practice specific orientation content required for completion of the initial 3 month orientation report to the Australian Health Practitioner Regulation Agency (AHPRA) / Medical Board of Australia (MBA).
This program is open to International Medical Graduates employed or about to commence employment within the Australian health system (Hospital-based and General Practice).
Session Information
Orientation to the Australian Healthcare System
- Structure & Funding
- Medicare Australia
- Prescribing - Pharmaceutical Benefits Scheme Provider & Prescriber Numbers
- Interface between private and public health services
Legislation and Professional Practice
- Legislative Frameworks, including the Coroner's Act
- Litigation and Indemnity
- Patient rights and responsibilities, Patient complaints Patient
- Consent and Adolescent Autonomy
- Child Safety
- Access to health/medical records and Confidentiality
Communication & Cultural Safety in the workplace
- Cultural awareness; safety; respect and competence
- Doctor – patient relationship
- Communication Strategies
Indigenous Australians Cultural Awareness
- History of Aboriginal culture, colonisation and government policy
- Understanding/concept of health
- Aboriginal Health Issues
- Working with Aboriginal patients
Find HTGR Online Program Timetable here.
Registration Details
Online
September Program: Wednesday 2 & Friday 4 September 2020. Register here
October Program: Wednesday 7 & Friday 9 October 2020. Register here
November Program: Wednesday 4 & Friday 6 November 2020. Register here
December Program: Wednesday 2 & Friday 4 December 2020. Register here
Important:
*A minimum of 10 participants required for the program to be delivered.
**Registrations close 1 week prior to commencement of Session 1.
Cost:
$330* AUD + Booking Fee
*GST inclusive
Refund Policy
- Registration (excluding admin fee) will be refunded for cancellation up to 7 days prior to the event.
- Registration will not be refunded for cancellation less than 7 days or non-attendance.
Face-to-Face
Coming soon.
For further information on the Hitting the Ground Running (HTGR) Program, please contact Laura Cotrone (Education Manager) on events@pmcv.com.au.